Maristella Bono's show gives the opportunity for a reflection on the Fake in art
PAINTER'S IMITATIONS OR ART WORKS?
De Chirico used to continually copy his own works. Aurelio Carminati and "the ideological fakes".
From "Villa Cambiaso" N.14, February 2002

The miths are hard to die. Some of them, spread by a kind of school with a Renaissance framework , are so deep-rooted in the culture to seem almost unassailable. Among these ones, the idea that the artist acts moved by a mysterious inspiring strength, or to attribute to the authentic art work, and to this one only, the dignity to be considered the original one.
It is clear that in Europe of the ancien régime, all this was not true. The art work (as a concrete object) was so prevalent compared to the artist to dim the historical reality of this last one. Then, there was no differences between the original and the copy (made by the artist himself, a ghost's shop or another painter). The dignity was equal being equal the function: to transmit an idea, to communicate an emotion, to wonder. Synthesizing, during the XIX century the idea that the artist and art work are inseparable takes place. A process that will reach a form of fetishism which brings the artist (his biography, his dramas, his manias) to cannibalize the his work itself. Toulouse-Lautrec's dwarfism, Van Gogh's ear, Munch's psyche end up to prevail on the aesthetic research, poetry, communicative effectiveness of the art work. That can explain from a side a success like Ligabue's one and to the other the art-brut.
During the XX century something changed. Giorgio De Chirico realizes 18 version of the "Disturbing muses" between 1945 and 1962. What are they? Are they 19 originals (the painting of 1917 and the following ones) or one original and 18 copies? De Chirico, however, loved to play with his paintings, authenticating copies made by others or recanting his own.
.....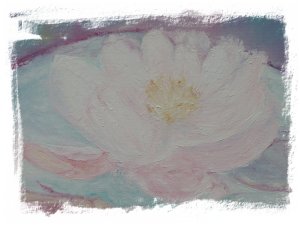 Now, where can we collocate the work of Maristella Bono, a remarkable copyst, in this cultural framework briefly outlined? Is the work of the good painter from the Italian Riviera, just an art shop, a simple handicraft for learned lovers of great art or can it aspire at the dignity of real art?
The current renunciation to her own style is, in this artist, a consequence of a choice, so a conscious act. If the awareness (neither the technique nor a school she belongs to) is the primary condition in order to define as artistic the work of a painter, then Maristella Bono can be rightly considered an artist who is aware of her talent and function of her work.

Ferdinando Molteni